Woodland
Democracy Works Awards go to Democracy Winters & Davis Media Access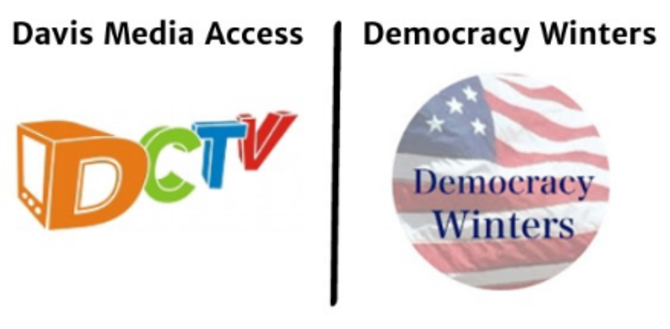 This year, LWV Woodland solicited nominations from throughout Yolo County, as reflected in the recipients, Davis Media Access and Democracy Winters. The nomination criteria included encouraging equal representation, promoting free and fair elections, expanding voter education and rights, advocating legislation that promotes democracy and communities, or taking grassroots political action. The award ceremony took place on October 20. Read more...
Yolo Co. Climate Action & Adaptation Plan to hold Community Workshops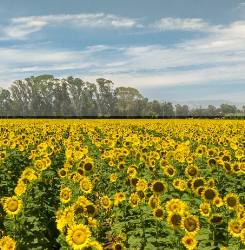 Yolo County will be holding their second series of community workshops, where they invite county residents to "share your vision for a more resilient, equitable and sustainable Yolo County."
The workshops are part of the development of the Climate Action and Adaptation Plan (CAAP), described as "a roadmap that outlines the actions that Yolo County will take to reduce our emissions and help our community be more resilient to climate impacts such as higher temperatures, more frequent wildfires and floods, and drought."
The workshops will take place in November and December at various locations throughout the county. There will also be a virtual workshop. For dates and locations Read more…
The Voter - Fall 2023 Issue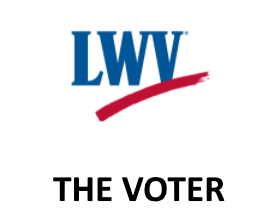 Our latest newsletter has updates on upcoming events and board meetings, as well as information about recent activities, high school voter registration outreach, LWV Woodland history and updates from LWV California and LWV United States.  
League of Women Voters of California Education Fund to Transition to Vote411 for Ballot Planning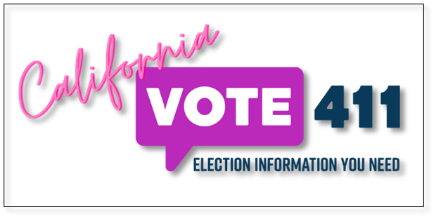 The League of Women Voters of California Education Fund (LWVCEF) is thrilled to announce an upgrade to its voter empowerment tools. Beginning with the 2024 election cycle, Californians looking for election information from the LWVCEF will use VOTE411 as their new ballot planning tool. Read more....
Mental Health Study Update and Meeting Schedule for 2023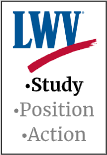 The Mental Health Study Group will meet once a month to continue gathering information on mental health services that nonprofit agencies provide in Yolo County as well as boards and commissions delegated to provide oversight for mental health services. This information will assist the League in focusing on different areas to develop our position statement.
The first meeting will be virtual (via Zoom) and held on August 30 at 12:00 noon. Thereafter the meetings will be held on the fourth Wednesday of the month [9/27, 10/25, 11/29 (due to Thanksgiving)] at 12:00 noon in-person or virtually depending on the consensus of the study group.
If you are interested in participating in the study and would like to attend the August 30 meeting, please email Janet Ruggiero at jmruggiero [at] sbcglobal.net to receive an invitation. READ MORE...
LWVC Hosts Video Presentation About the Brown Act, California's Public Meeting Legislation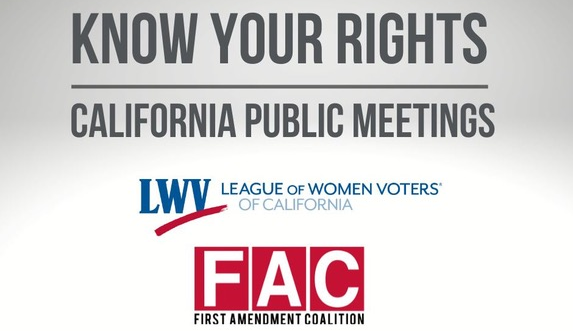 Watch: Know Your Rights - California Public Meetings - (firstamendmentcoalition.org)
Hosted by the League of Women Voters of California, the First Amendment Coalition's open-government experts provided an in-depth presentation on your rights to access public meetings in California on Tuesday, January 31.
The presentation focused on the Ralph M. Brown Act's open-meeting requirements for local legislative bodies, including recent law changes that affect teleconferencing and decorum rules. The session covered your right to give public comment and what restrictions government bodies can place on the public; what government business can be done behind closed doors; common complaints from members of the public about accessing and participating in meetings; and where First Amendment speech protections intersect with the government's ability to manage proceedings.