Elmhurst
THE 2024 PRIMARY
The 
2024 Primary Election is coming up on Tuesday, March 19, 2024! Get ready to make your vote count . . . click here for a list of important dates related to the election and voting in general.
SAVE THE DATES!
On December 10, 1869, Wyoming became the first territory to explicitly grant women the right to vote. Celebrate this milestone moment with us by participating in our fundraiser at Panera Bread on Sunday, December 10, 2023. From 4:00 PM to 8:00 PM, order something tasty from Panera for pickup, delivery, or dine-in, and the LWV Elmhurst will receive 25 percent of all proceeds! 
*Remember to use the promo code FUND4U when you check out online OR show your cashier a printout and/or screenshot of this flier when you pay in person.
Worried you might forget? Click
here
to access this event on our online calendar, which you can use to enable reminders on your tablet or phone.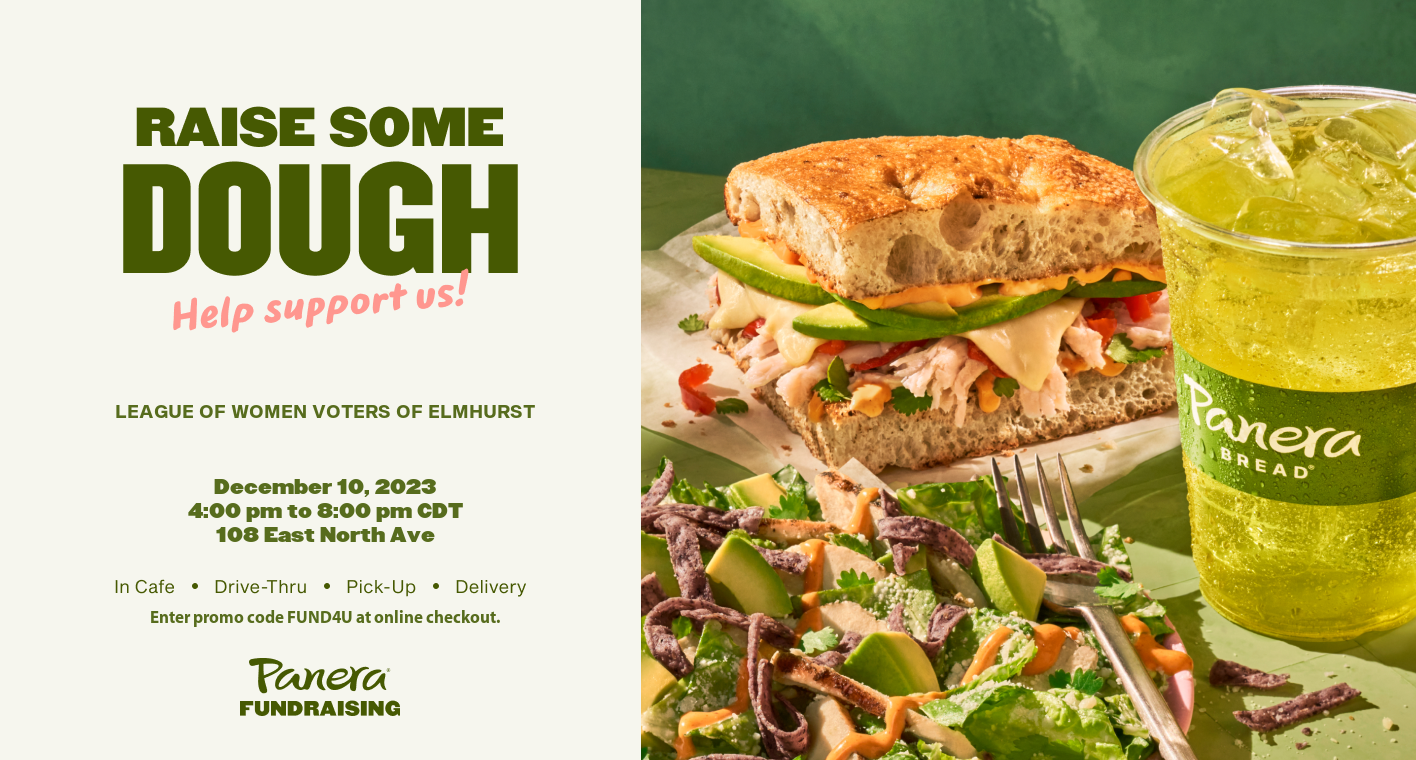 ******
The LWV Elmhurst's annual holiday party for members on Thursday, December 14, 2023.
Members, please check your email for further details! 
A CLOSER LOOK AT LWV ELMHURST LEADERSHIP
LWV Elmhurst leaders have a meaningful impact both within our organization
and throughout our entire community.
Want to learn more about joining us? Reach out by clicking president.lwvelmhurst [at] gmail.com (here).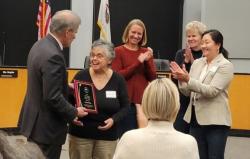 Pictured above: Mayor Scott Levin presents LWV Elmhurst Second Vice President Grace Clear with the Outstanding Senior Citizen Service Award in November 2023; LWV Elmhurst co-presidents Jan Dorner and Dorothy McGuire received the award in 2018 and 2022, respectively.
STAYING INFORMED/ENGAGED
For a comprehensive listing of the many events we are hosting, sponsoring, or supporting,
Click here for the observer report (OR) for the Elmhurst City Council meeting on November 20, 2023.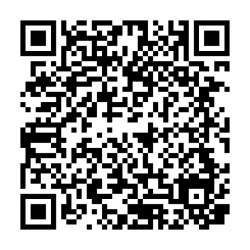 *Email us to request reports predating 2019.
WE WANT TO HEAR FROM YOU!
Click here to contact members of the current LWV Elmhurst Board of Officers and Directors.