Make Democracy Work
The League of Women Voters is a nonpartisan political organization that encourages the informed and active participation of citizens in government, works to increase understanding of major political policy issues, and influences public policy through education and advocacy. The LWV is non-partisan and neither supports nor opposes candidates for elected office but does act on issues after member study and consensus.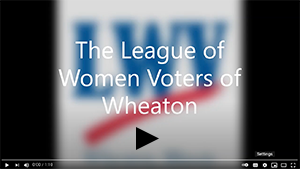 Please watch our video to learn more about what the League of Women Voters does. See how you can get involved. 
You may help support us by becoming a member or making a donation. Your support allows us to continue to make democracy work! membership [at] wheatonlwvil.org (subject: Question%20about%20Membership) (Ask questions).
Watch DuPage County Public Safety Update